My Twin Girls Room Update
While I was working on my older daughters room for The One Room Challenge I decided that her younger twin sisters needed a little room TLC too. Gotta make it fair right?
Lilly and Claire are seven and are full of sugar and spice and 75% of the time have personalities and interests on complete opposite ends of the spectrum but get along pretty darn well most of the time. They like sharing room- which is a good thing since we don't have another bedroom left! Like Annie's room, I wanted to keep their furniture. They are quality pieces we purchased from Restoration Hardware when we moved in four years ago and are still in great shape. Here you can see the before… super pretty and sweet but they were ready to turn up the style volume and give it more of a "big girl" feel.
We based the style reboot on the fabulous Spot Cheetah from the uber chic Emily McCarthy fabric line for Cotton and Quill. Animal prints are a standard in every room in our house somewhere so they were immediately drawn to the color and whimsy of the Spot Cheetah. We used navy coordinating prints in a Greek Key and Flamingo Palms for the accents.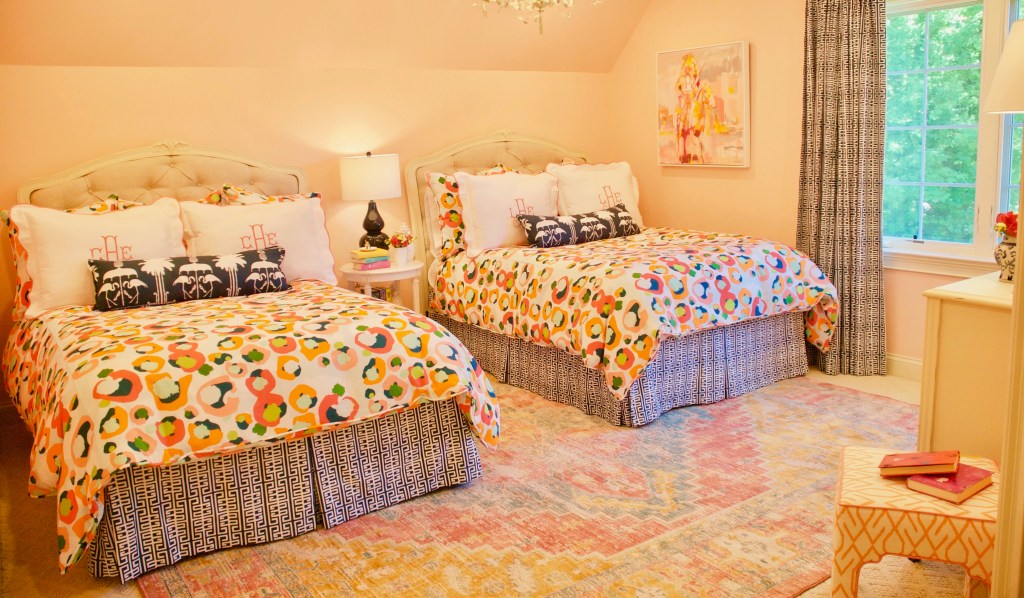 My biggest frustration in their room from the beginning was how the bedding fit- it always looked sloppy to me! They have full size beds and it is IMPOSSIBLE to find quality bedding for Full beds for kids- everything is Full/Queen and just looks too big and messy. To solve the problem I had my favorite gals at Sew Bee It in Boone, NC make custom duvets that fit PERFECTLY on their beds! They are seriously one of my favorite things ever…. the perfect size and as always with their work the quality is of the highest standard.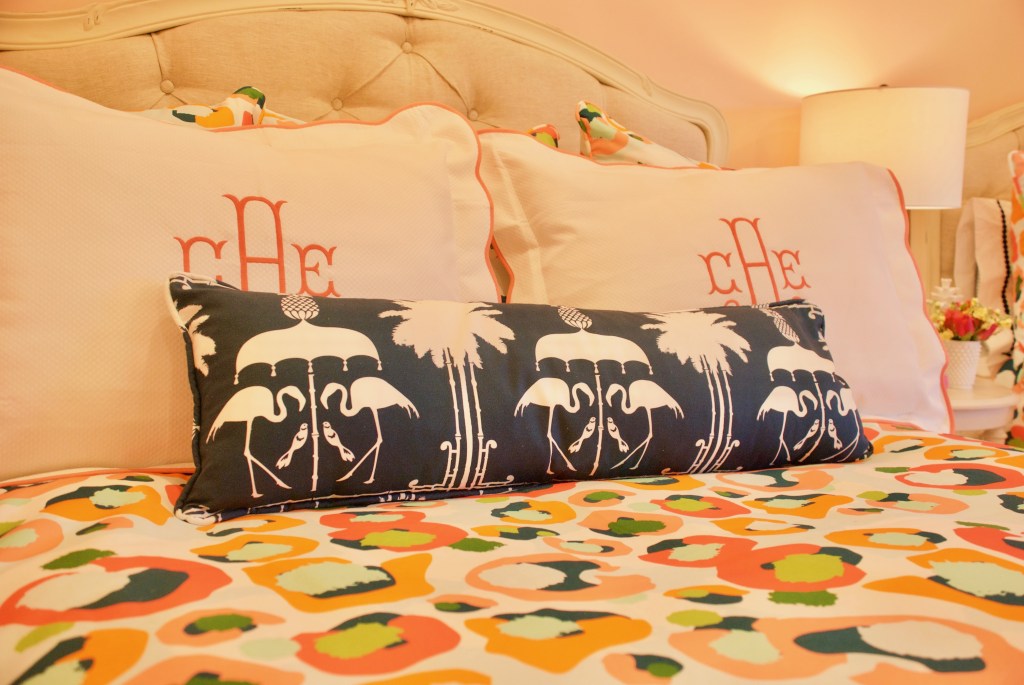 We added 3 custom Euros in the Cheetah and an accent pillow in the Flamingo Palm… the gorgeous monogramed coral pique shams came from Biscuit Home.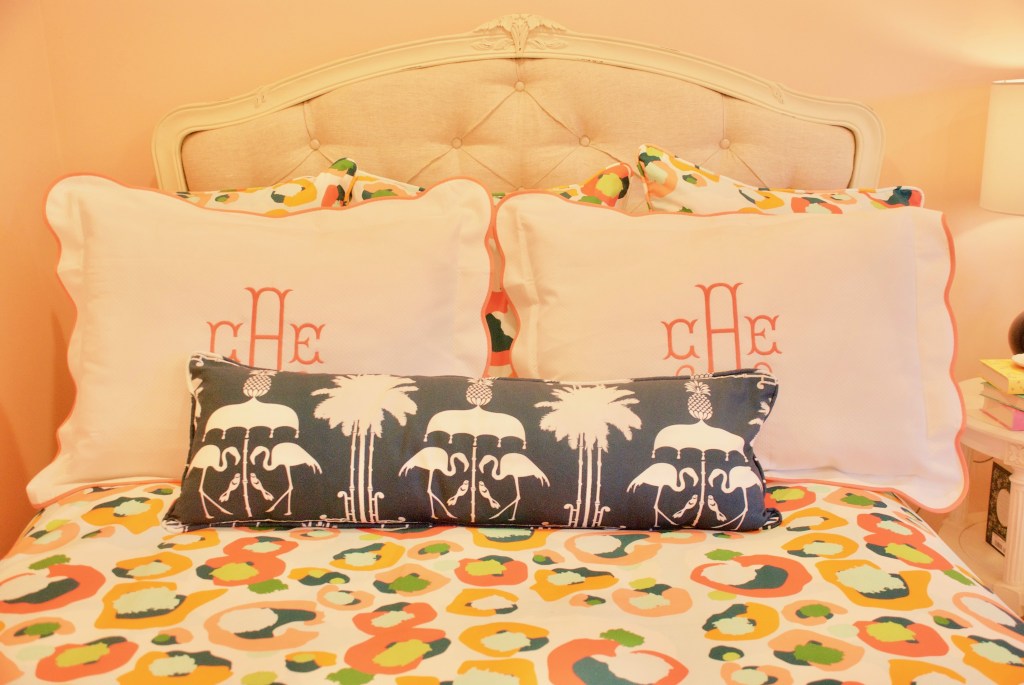 The custom bedskirts are tailored to perfection in the Greek Key print, we repeated that same print on the new window treatments as well.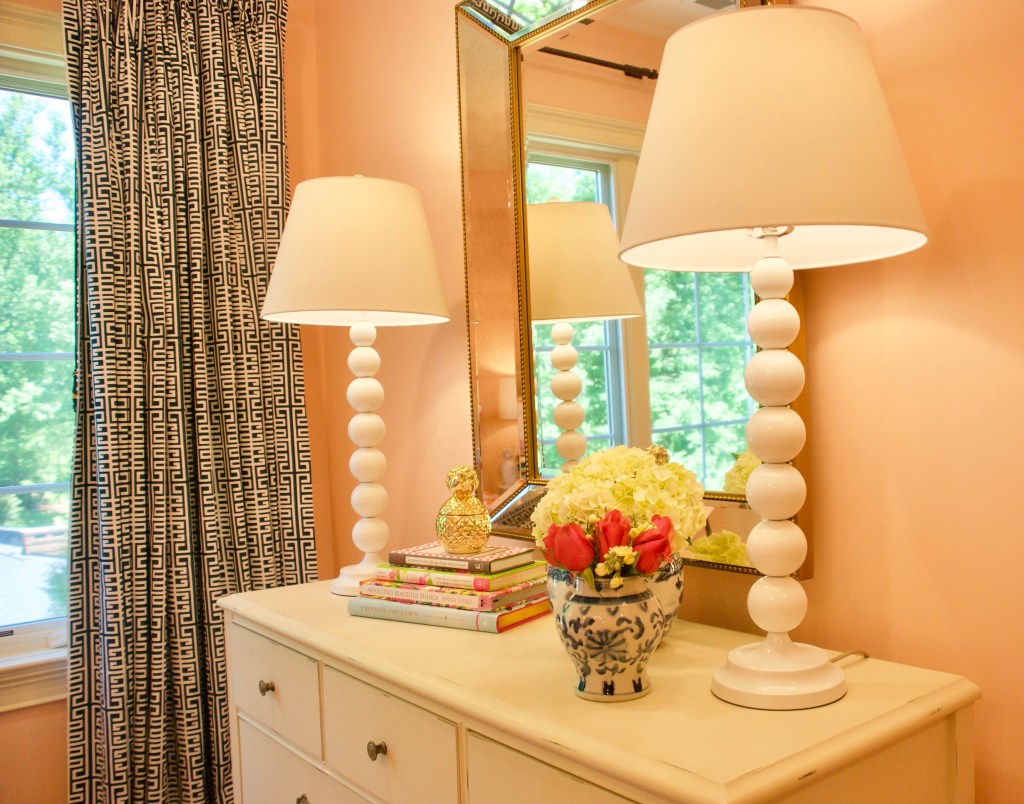 I changed out their mirror to one with Gold Accents, restyled the dresser top and bedside table with new lamps and accessories and found that amazing rug from Lulu and Georgia. It is so soft and because it is a machine made, printed rug it was a super comfortable price point, especially for a kids room.
I added some statement art on one wall from RH Teen and the crowning jewel is the FREAKING AMAZING original from Elaine Burge on the opposite wall. I just adore the colors and my girls love "the Chief" as they call him! I got to hang out with Elaine at The Southern C Summit and she is just the sweetest!
Thanks for stopping by for a tour of my sweet girls room!
A source guide for both rooms coming soon 🙂