Welcome to our Home – Holiday Home Tour 2016
Welcome Y'all! It seems fitting that my very first blog post is all about Christmas decorating- I adore decorating our house for the holidays and all things Christmas! It is my absolute favorite time of year and even though it can be busy and hectic, there is nothing better that cuddling into our living room under the cozy glow of our Christmas tree and watching "Elf" for the 700th time.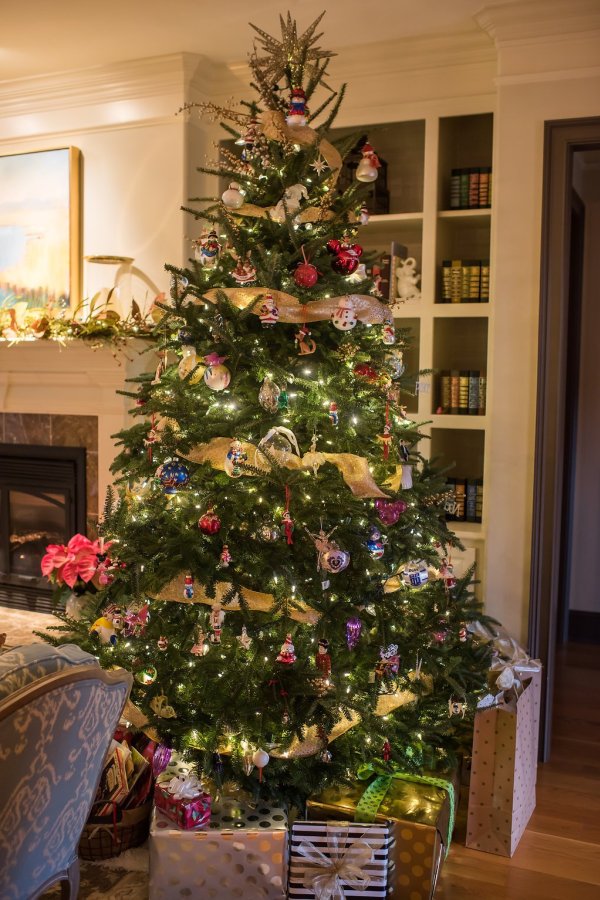 Lets start in our living room, while its "officially" our formal living room we use it all the time and everyone is welcome- kids and doggies included! We are lucky to live in a small town in the foothills of the Blue Ridge mountains in North Carolina and less than hours drive to the prettiest Frasier Fir trees in the world. Every year the weekend after Thanksgiving, we pile in the truck and head up the mountain to pick our tree. Shady Rest Tree Farm in Ashe county is our favorite spot if you are ever lucky enough to be up that way!
The Frasier fir in the living room showcases our collection of ornaments from travels, special occasions and personalized gems of the girls. I think perfectly matched to decor trees are quite lovely but I love nothing more than the crazy mix of Mickey Mouse heads, a pansy ball from my best sorority sister or ornaments celebrating each of the girls births or our wedding. The very first ornament my husband ever gave me (Christmas of 1995!!!) my freshmen year of college always gets a special place on the top of the tree.
This year I added magnolia to our mantel garland and I love the classic style it adds. I repeated the same look on our stairs and added some fresh greenery and glittery bows to our sconces for a little extra sparkle.
Our dining room actually gets used this time of year with parties and family entertaining so I jazz it up with a pair of glittery trees in each corner and some reindeer friends on the table.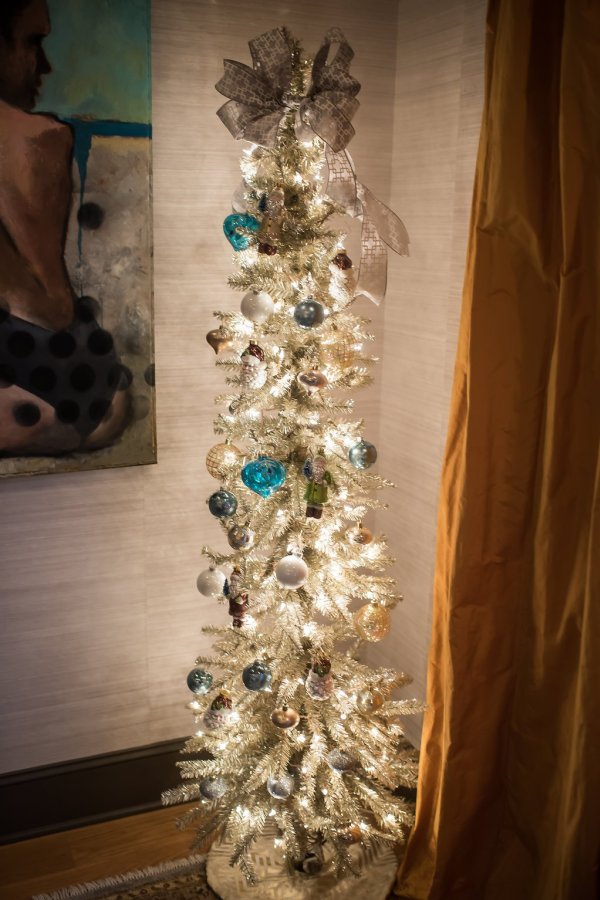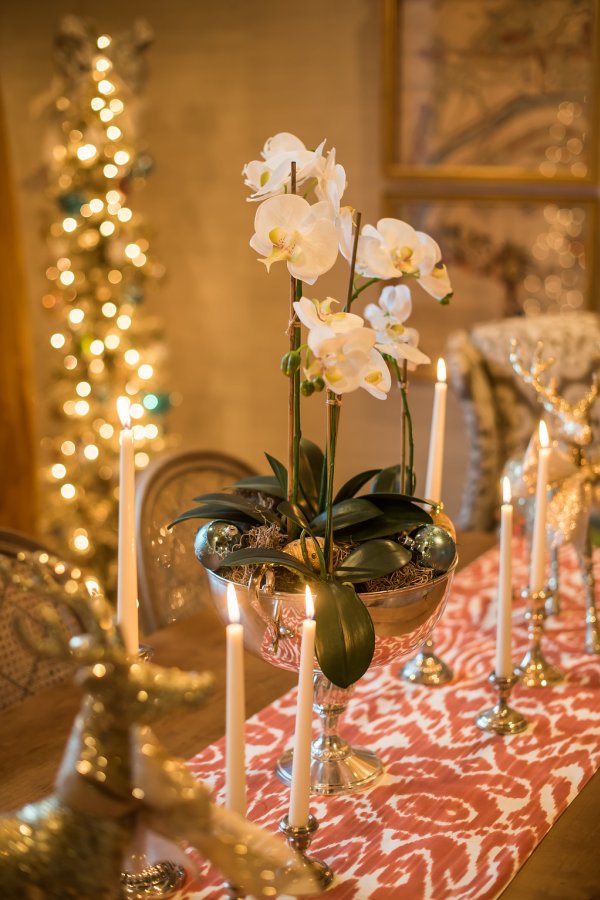 Off our living room we have a sunroom that leads to our patio. This area becomes bar central during our Christmas parties- wine in the sunroom for the ladies and a keg on the patio for the fellas! I tuck what I call the "Erin Tree" in the corner of this room- it is covered in purses, high heels and wine ornaments! All the windows in this room really make the lights on this tree glow!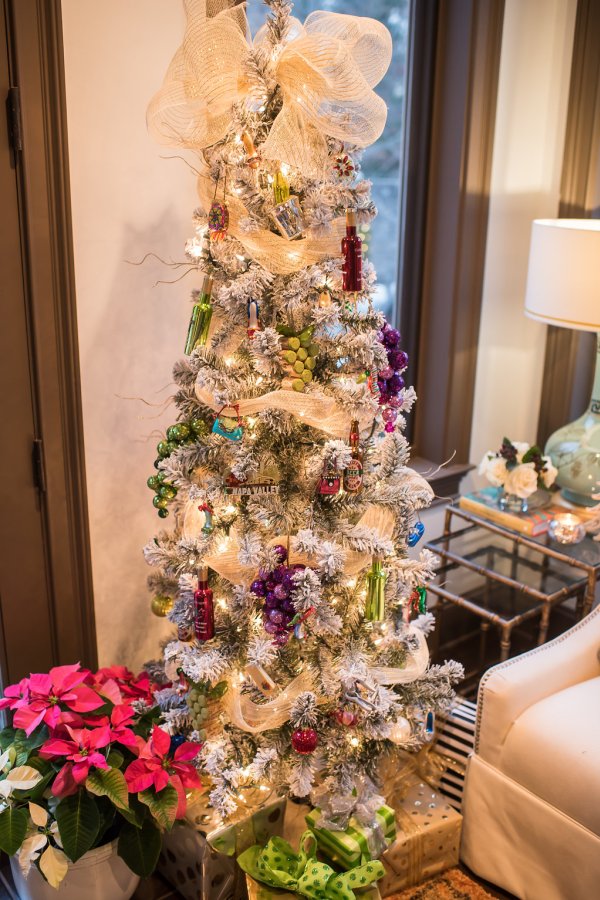 Our kitchen and keeping room get into the spirit too! A pair of glittery trees flank our fireplace and a sparkly garland drapes across the front. I use a tall slim artificial tree in this room tucked in the corner. I put some of my most special and prized blown glass ornaments on this tree for two reasons- 1) I can really secure them to the tree and 2) the kitchen is where I spend most of time and they make me happy!
My three little ladies each get a tree in their room too! My oldest gets a purple and pink ballet themed tree. A perfect match for my ballerina. The twins have a Princess themed tree with ornaments I have collected from our many family trips to Disney World ( and a few unicorns thrown in for good measure!) The twins are seven this year and I know we are in the home stretch of a princess themed tree and my heart breaks a little just thinking about it. I may have to relocate it to our master bedroom before long- I know may husband will love that!
The upstairs media room has my very very very favorite of all the trees! It is totally covered in handmade ornaments from our girls! Every single one is so special and I literally get giddy over all the new ones brought home from school and church every year! Hope you enjoyed a peak in our cozy little holiday house! I wish you and your families the Merriest of Christmases and the very Happiest of New Years! Now I gotta run and move the elf before I forget!!!