Christmas Morning Yumminess – Homemade Moravian Sugar Cake
The girls and I just wrapped a Christmas Eve holiday baking tradition… making homemade Moravian Sugar Cake for Christmas morning (and a little to snack on now of course!) Its the perfect treat for the post-Santa chaos, add in my Daddy's homemade sausage balls, a big bowl of fruit and a hot pot of coffee and we are all set for the morning. Moravian sugar cake is a favorite local treat, it's like a coffee cake but with tons of brown sugar, butter and cinnamon on top! Its a tradition of the Moravian Church. The Moravians first settled in Winston Salem, North Carolina centuries ago and this treat is a long-standing tradition in many Southern kitchens. Dewey's Bakery in Winston Salem makes some of the best and it pretty much sustained me through my college years at Wake Forest. A family friend shared this super easy recipe with me a few years ago. It shortcuts the yeast and adds in a special secret ingredient- Beer! Her family makes it every year for the entire congregation of our church at the annual childrens christmas pagent! Lots of brown sugar, butter, and beer- I mean what can be bad about that?!?!?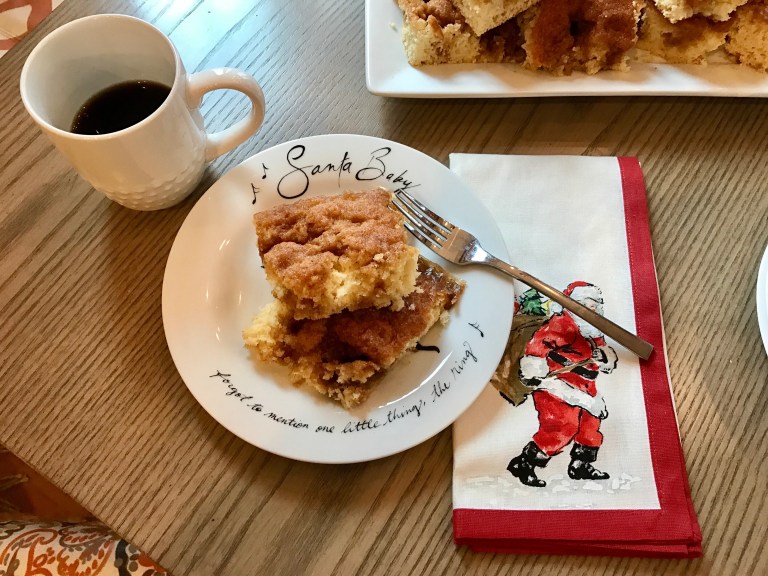 Mix together the following dry ingredients in a bowl:

4 cups Bisquick Baking Mix
1/4 cup sugar
1/2 cup instant potato flakes
1/4 instant milk powder

Mix together the following wet ingredients, make a hole in the middle of the dry ingredients and add in the wet mixture:
2 eggs, beaten
3 tbsp vegetable oil
1 12oz. Beer

Place dough on a greased pan and let sit for 10 minutes while you make the topping:

2 sticks butter melted
2 cups brown sugar
1 1/4 tsp cinnamon

Spread half of topping on dough and bake for 15-20 minutes at 350 degrees. Top with remaining brown sugar mixture, filling in any holes and continue to bake for 5-10 minutes.

Enjoy!