One Room Challenge – Week 4
Its Week Four of the One Room Challenge and we are getting her done! Even with being gone last week for Spring Break we managed to get paint on the walls, a new light hung and I got her closet cleaned out and reorganized with some new Ikea shelves.
This week my super handy husband helped me hang the gallery wall above her bed and two shelfs above her desk.
We got lamps on tables and a new rug on the floor. We originally planned to replace the carpet in her room- I had my mind set on some funky leopard print but we had a bit of sticker shock at the estimate! We realized this a room for an 11 year old and probably not the most realistic spot for fancy high end carpet. But a new runner for my stairs would be a perfectly reasonable splurge right …. you reading this Steve-O???
Anyway, I had her carpet professionally cleaned and it turned out looking brand new! I bought this large room size rug and ended up thrilled with the final result and we saved a ton of cash. And probably kept our resale value a little safer- apparently everyone doesn't think leopard is a neutral.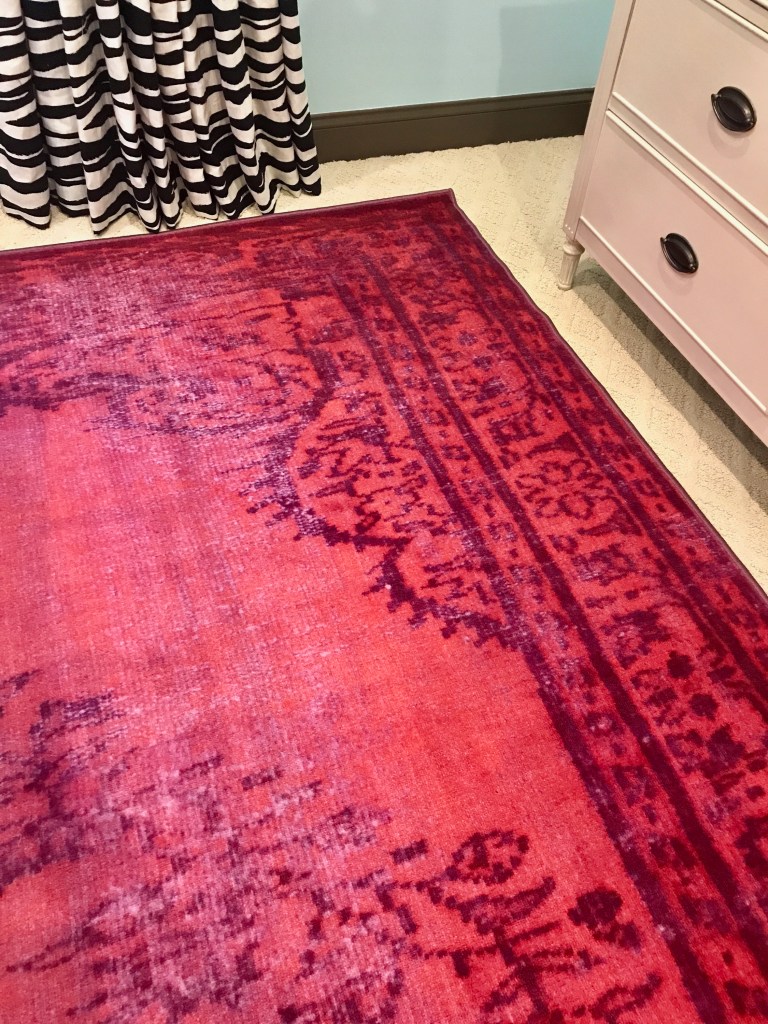 We also got her new window treatments up! They are from the new Kate Spade line of home decor fabrics and I am loving everything about them and how they pop on the light blue walls! The fabric workroom should have the rest of her bedding and accent pillows done this week!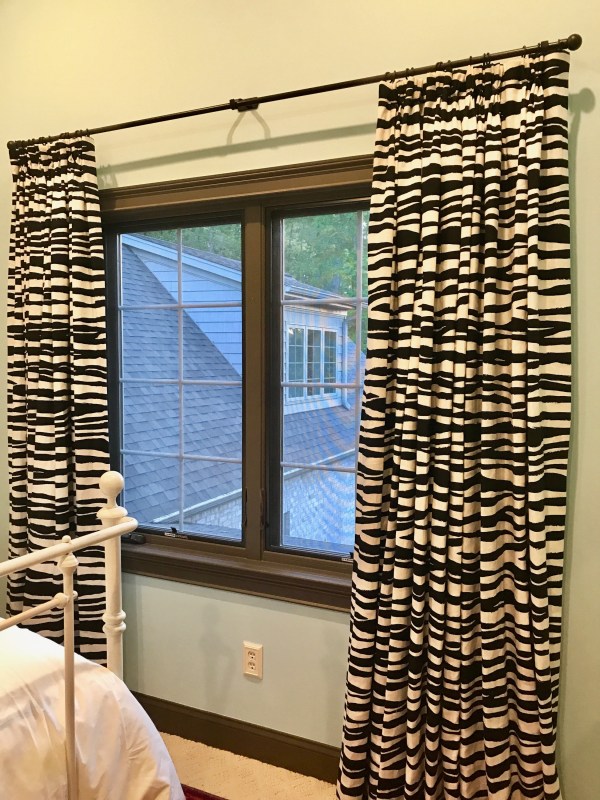 Since we were rolling along at a good pace I decided to add on a little economical refresh of her attached bath also! I had my painters change the lavender to a crisp white and we are changing out the rubbed oil bronze finishes to an antique brass. All easy and low cost changes that pack a big punch! I had always wanted sconces in her bathroom instead of the one long light over the mirror so I had my electrician change it up and we used a new hot pink lacquer mirror in an oval shape to add some pop! I also am having my fabric gals sew up a custom shower curtain to coordinate with the accent pillow and inspiration fabric from her room! My favorite addition is the Jonathan Adler zebra bath mat- it is some serious perfection! It is the third one I have bought- they come in a ton of colors and the funky shape works well in small bathrooms.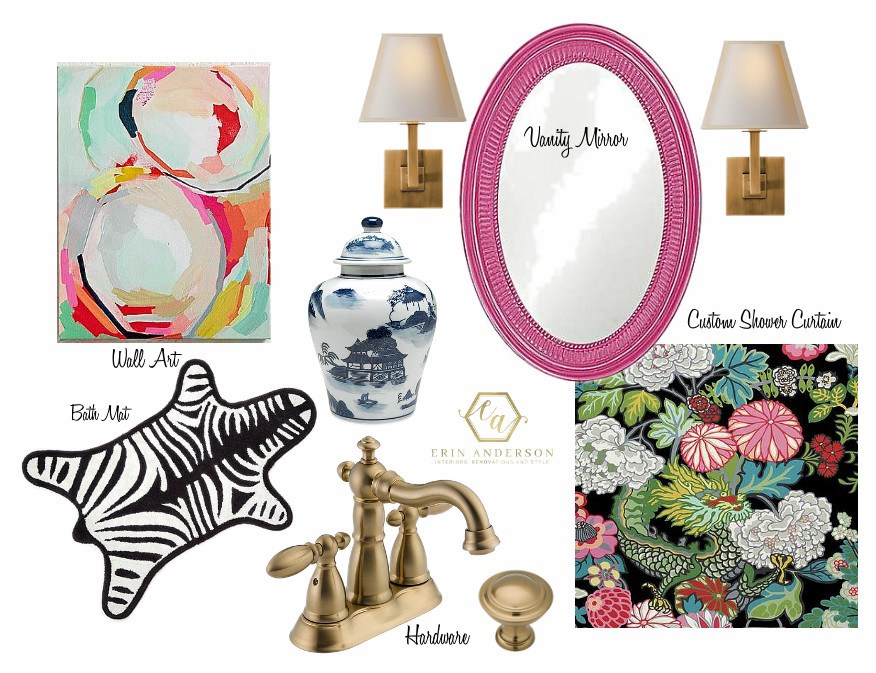 We also managed to fit in time for a super cute family photo too! Our home at Lake Norman is being featured in an upcoming publication (EKKKKK!!!) and we needed some pics of all of us at the house- what a great excuse to dress the kiddos up for picture!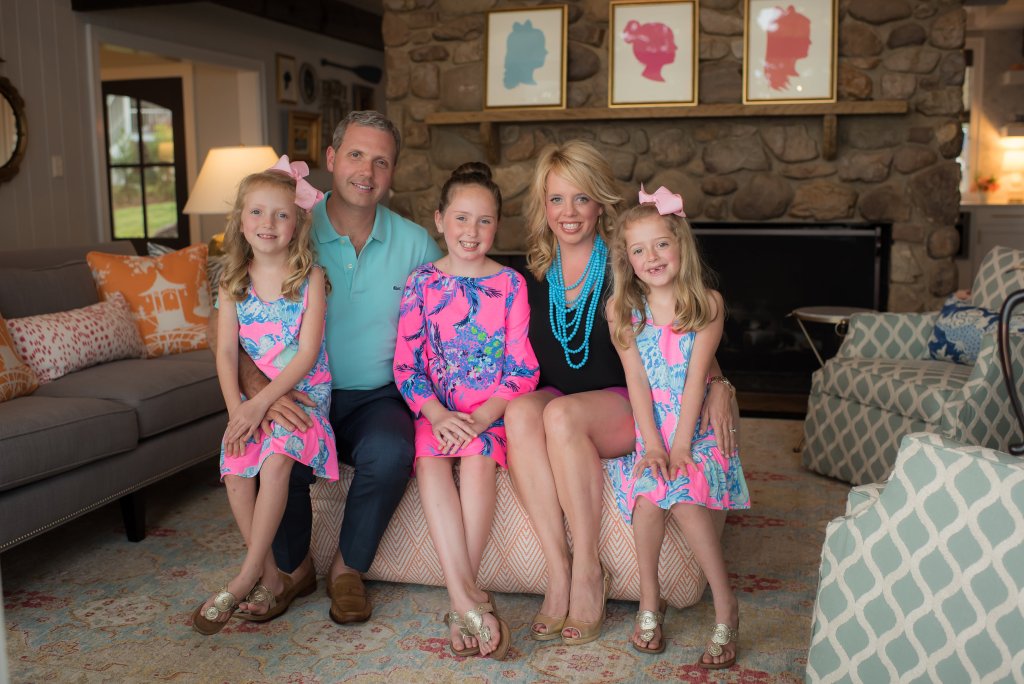 Thanks for checking in and I look forward to catching you up next week for the home stretch!